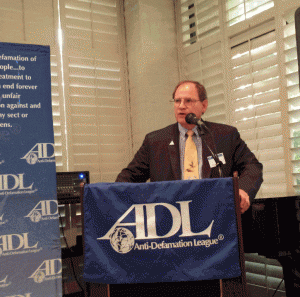 SANTA ANA, Calif., June 27, 2013 – Michael Rubin, a senior partner with law firm Rutan & Tucker, LLP, leads the new roster of Executive Committee members of the Orange County/Long Beach Region of the Anti-Defamation League (ADL) as the organization's new regional chair.
 "We are delighted to announce our new slate of Executive Committee members, beginning with our new Regional Chair Michael Rubin," said Melissa Carr, ADL regional director. "Mike has been one of our organization's leading advocates and supporters for many years, serving most recently as vice-chair and for many years as the chair of the Civil Rights Committee. He has also been an associate national commissioner of the ADL."
Mike has practiced law at Rutan & Tucker since graduating from the University of Michigan Law School (Magna Cum Laude) in 1974. Co-chair of the law firm's Condemnation/Property Valuation Practice Group, his practice emphasis is in Real Estate, Eminent Domain, Public Agency & Business Litigation, as well as Land Use Entitlement/Regulation, and Property Tax matters.
Among numerous accolades, Mike's partners at Rutan & Tucker have honored him with its John B. Hurlbut award for "setting the highest standard of excellence, teamwork and integrity." In 2009, Mike received the Judge Learned Hand Lifetime Achievement Award from the American Jewish Committee. He is a member of Temple Beth Sholom.
The other members of the Executive Committee and their positions include: Vice Chair Jordon Steinberg is a 2013 graduate of the Glass Leadership Institute (GLI), a nationally recognized young leadership development program for the Anti-Defamation League, founding president of the Orange County Jewish Bar Association, a certified family law specialist at Minyard Morris and husband of Lisa Steinberg.
Immediate Past Chair Marc Schneider is a GLI graduate who has held numerous leadership positions. He is a shareholder at Stradling Yocca Carlson & Rauth and husband of Elena Zaretsky Schneider.
Treasurer Gene Alterman is a long-time ADL supporter and chair of OC International Jewish Film Festival.
Secretary Lois Goren is a long-time ADL supporter, involved in myriad community activities, including Heritage Pointe and University Synagogue.
Civil Rights Committee Chair Michael Rosen is a graduate of the Steinberg Leadership Institute (now known as GLI). He has previously served as treasurer and is a forensic accountant. He is also involved with Alpert JCC and Temple Israel, both in Long Beach.
Co-Chairs of the Education Committee are Shelley and Garrick Hollander. This married couple will lead ADL's efforts to impact school learning environments with the organization's acclaimed education materials. Garrick is an attorney specializing in corporate restructuring and is a shareholder with Winthrop Couchot. Shelley is an education advocate.
Glass Leadership Institute Chair is Josh Grushkin, a GLI graduate who has been involved with ADL for a number of years. He is a shareholder at Stradling Yocca Carlson & Rauth, specializing in real estate matters. He is married to Sarice Grushkin.
Government Affairs Chair is Stuart Katz, who has held several leadership roles, including regional vice chair, co-chair of GLI, and was a prior government affairs chair. Stuart is an attorney specializing in debt collection. He is married to Heather Katz.
International Affairs and Latino Outreach Committee Chair is Bruno Ledwin, a long-time supporter of ADL and a past regional chair. Bruno also holds positions on ADL's National Executive Committee and National Jewish Latino Outreach Committee. He is married to Raquel Ledwin.
 "The ADL has asked us to imagine a world without hate," said Rubin, "and it is our mission every day to bring us closer to such a world. I am honored to help lead an organization that has, for the past 100 years, devoted itself not only to eradicating anti-Semitism, but even more ambitiously, to securing justice and fair treatment to all."
Founded 100 years ago, the Anti-Defamation League is a leading civil rights and human relations organization dedicated to ending anti-Semitism and bigotry, defending democratic ideals and promoting equality for all. ADL fights hate and promotes tolerance through its acclaimed education programs, research and investigation, law enforcement training, and advocacy.
In honor of its first century, ADL has launched a major public awareness campaign, inspiring people to "imagine a world without hate", through a brief innovative video aimed at encouraging individuals and communities to stand up to hatred and bigotry. View the ADL's centennial video at www.adl.org/imagine.