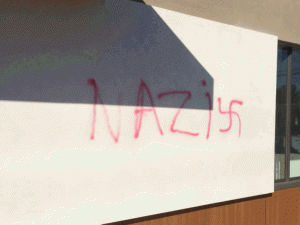 SANTA ANA, CA, July 22, 2013 … The number of anti-Semitic incidents in the U.S. declined by 14 percent in 2012, according to the Anti-Defamation League. The annual ADL Audit of Anti-Semitic Incidents released today reported a total of 927 incidents of assault, vandalism and harassment, compared to 1,080 incidents reported in 2011.
For the first time in three years, California fell from first to second in the nation in the number of anti-Semitic incidents, with 185 reported incidents.
The State of New York reported 248 incidents. While the reported number of incidents in the state was down, the Orange County/Long Beach Regional Office showed an increase. 38 incidents in 2012 compared to 33 in 2011. The numbers reflect increases of incidents of vandalism and harassment.
"It's a good sign to see a decline in the national and state numbers of anti-Semitic incidents of any kind. In the Orange County/Long Beach Region, however, we continue to see an increase in these numbers" said Regional Director Melissa Carr. "It is troubling that the incidents are moving from the real community to the online community where it is anonymous and ubiquitous."
One disturbing trend noted in the Audit is that anti-Semitic vandalism rose 33 percent – from 330 incidents reported in 2011 to 440 in 2012. While the majority of those incidents took place on public property or individual homes, Jewish institutions were targeted in 13 percent of the total vandalism incidents.
Anti-Semitic incidents in ADL's Orange County/Long Beach Region echoed this trend with vandalism incidents increasing by 18 percent. Many of the vandalism incidents included swastikas, a hate symbol that evokes a particularly emotional response in the Jewish community. In the region, 4 Synagogues suffered graffiti or vandalism. 2 of those attacks were anti-Semitic, two were deemed random gang graffiti.
One highly publicized anti-Jewish vandalism crime in 2012 took place when a Temple in Long Beach was tagged with a large swastika and the word nazi.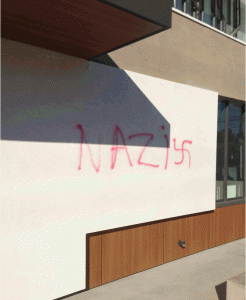 Statistics consistently show Jews to be the most frequently targeted religious group. According to the 2012 Hate Crime Report released earlier this year by the Orange County Human Relations Commission, the vast majority of religion motivated crimes – 65 percent – are perpetrated against Jews and Jewish institutions. The 2011 Hate Crime in California report from 2012 by the California Department of Justice indicated crimes against Jews comprised 66 percent of all religion-motivated hate crimes in the State of California in 2011. The FBI's most recent report, Hate Crime Statistics 2011, indicates crimes against Jews comprised 62 percent of religion-motivated hate crimes around the country.
Examples of incidents reported to the ADL Orange County/Long Beach Region in 2012 include:
VANDALISM
• A swastika and the word "nazi" were spray painted on the front of a Temple in Long Beach. (Photo available)
• Swastikas were spray painted along a greenbelt connecting two Synagogues in Irvine. (Photo available)
• A 16 year old boy came home one Saturday night to find a a swastika and the words "f*** you" on the garage of the family home in Irvine. (Photo available)
• A flower pot was thrown through the window of a Rabbi's home in Irvine.
• A woman reported that her car had been keyed with a swastika while it was parked outside her home. There was also a swastika spray painted on her sidewalk.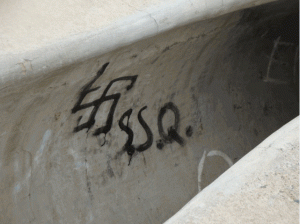 HARASSMENT
In-person:
• A neighbor regularly yelled "heil Hilter" and threw nazi salutes at a Jewish neighbor.
• A landlord called a tenant a "dirty little Jew".
• A 6th grade public school student was told by another student he should be dead because he is Jewish.
• A varsity baseball coach regularly used anti-Semitic and homophobic taunts to "motivate" his players.
In cyberspace:
• A Jewish doctor who performs the ritual of circumcision was threatened by an anonymous emailer who said, "You deserve to die."
About the ADL Audit
The Audit identifies both criminal and non-criminal acts of harassment and intimidation, including distribution of hate propaganda, threats and slurs. Compiled using information provided by victims, law enforcement and community leaders and evaluated by ADL's professional staff, the Audit provides an annual snapshot of one specific aspect of a nationwide problem while identifying possible trends or changes in the types of activity reported.
This information assists ADL in developing and enhancing its programs to counter and prevent the spread of anti-Semitism and other forms of bigotry.
EDITORS NOTE: For more information, contact Melissa Carr, ADL Orange County/Long Beach Region, e-mail mcarr@adl.org.
The Anti-Defamation League, founded in 1913, is one of the nation's premier human relations and civil rights organizations, fighting anti-Semitism and bigotry of all kinds. ADL celebrates its Centennial in 2013 with the theme Imagine a World Without Hate™. Visit our website www.adl.org